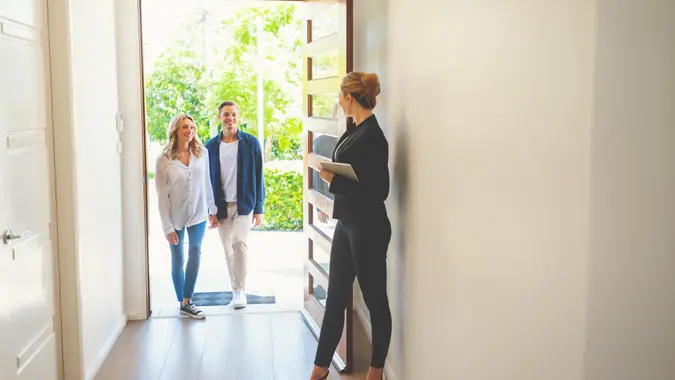 Many experts are observing signs that the U.S. could be in a Housing Market Price Correction. But what does that mean, and how will it affect homebuyers in 2023?
A Housing Market Correction occurs when home prices rise so high as to be unsustainable and then drop to better meet supply and demand. The drop is typically less than 10%, although there is no established number that represents a correction, according to U.S. News & World Report. As GO Banking Rates previously reported, the current correction, if one does exist, would be the second largest in the post-World War II economy, behind the housing market crash and mortgage crisis of 2008.
In November 2022, the median existing-home sales price was up by 3.5% compared to November 2021, according to National Association of Realtors statistics published by Forbes Advisor. Prices have fallen from their all-time highs in June 2022, however, and both mortgage applications and home sales are slowing down. With mortgage rates averaging 6.33% as of Jan. 19, according to Freddie Mac, the US Housing Price Correction could simply offset higher interest rates. Buyers will pay less for the home, but they'll pay higher interest on their mortgage loan.
In an era when 55% of American homeowners said they wouldn't be able to afford to buy the home they live in today at today's prices, according to the 2022 Housing Affordability Survey by Cato Institute, a price correction may not be as negative as it sounds.
However, buyers who purchased during the pandemic may have tough choices to make. "The biggest issue in 2023 will be buyers who overpaid in 2021 realizing they have no equity and are stuck with a property they may not have really wanted," Oddest Riley, Jr., CEO of WLM Realty and Co. in Inglewood, California, previously told Go Banking Rates. These buyers might fare better to hold their property, which is probably mortgaged at a lower rate than they could find today.
For first-time homebuyers especially, the market could represent new opportunities. "First-time homebuyers will be welcomed with their FHA loans and sellers will be handed a dose of how it feels to not be in control of the whole transaction," Riley previously said.